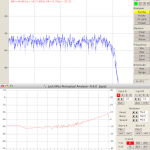 I compiled the real-time frequency analyzing tools jaaa, japa 0.6.0 and Jnoise by Fons for Mac OS X (>= 10.6) as easy-to-install package.
japa-0.6.0-installer.pkg
jaaa-0.6.0-installer.pkg
For generating a test signal (white or pink noise) you can use jnoise-0.6.0.zip.

About:
Jaaa (JACK and ALSA Audio Analyser, is an audio signal generator and spectrum analyser designed to make accurate measurements.
Start from command line using Jack:
> jaaa -J
Japa (JACK and ALSA Perceptual Analyser), is a 'perceptual' or 'psychoacoustic' audio spectrum analyser.
In contrast to JAAA, this is more an acoustical or musical tool than a purely technical one. Possible uses include spectrum monitoring while mixing or mastering, evaluation of ambient noise, and (using pink noise), equalisation of PA systems.
Start from command line using Jack:
> japa -J
Jnoise: A command line JACK app generating accurate white and pink noise with Gaussian amplitude distribution.

Requirements:
JackOSX:
http://www.jackosx.com
X11:
http://xquartz.macosforge.org
Developements by Fons Adriaensen:
http://kokkinizita.linuxaudio.org