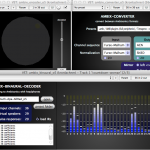 I am happy to finally release my cross-platform Ambisonic processors useable as VST/LV2 plug-ins or standalone application under Windows, Mac OSX and Linux. They can be used in flexible hosts like Reaper, Ardour MaxMSP or as standalone applications with Jack.
The plug-ins can be used to produce 3D Ambisonic content or do post production on recordings. (eg. Soundfield or Eigenmike microphone recordings)
The Ambisonic order is variable and can be choosen at compile time. A practical limitation for Reaper is 7th order due to the 64 channel limit. The processors use the ambiX convention (full 3D, ACN channel ordering, SN3D normalization)
You may want to use these plug-ins in combination with the mcfx multichannel effect plug-in suite: http://www.matthiaskronlachner.com/?p=1910
Source code repository: https://github.com/kronihias/ambix

Windows 32bit VST:
1st order: ambix_v0.2.0_win32_o1.exe
3rd order: ambix_v0.2.0_win32_o3.exe
5th order: ambix_v0.2.0_win32_o5.exe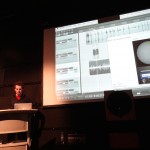 Windows 64bit VST:
1st order: ambix_v0.2.0_win64_o1.exe
3rd order: ambix_v0.2.0_win64_o3.exe
5th order: ambix_v0.2.0_win64_o5.exe
Windows Users: You might need to install the Visual C++ 2012 runtime components from here.
Mac OS X (>= 10.6) VST Universal Binaries:
1st order: ambix_v0.2.1_osx_o1.zip
3rd order: ambix_v0.2.1_osx_o3.zip
5th order: ambix_v0.2.1_osx_o5.zip

You will also need the binaural decoder presets if you want to listen with headphones:  ambix_binaural_presets_v0.1.4.zip
(download includes decoder matrices + binaural loudspeaker impulse responses)
Install the decoder presets to:
Windows 7/8: C:\Users\username\AppData\Roaming\ambix\binaural_presets\
MacOS: ~/Library/ambix/binaural_presets/
Linux: ~/ambix/binaural_presets/
A short video clip showing the plug-ins in action: https://vimeo.com/81073470
A slightly outdated paper about the plug-ins can be found here: http://lac.linuxaudio.org/2013/papers/51.pdf
Ambisonic transformations are described here ICSA2014_KronlachnerZotter_AmbisonicTransformations.pdf
Weiterlesen →