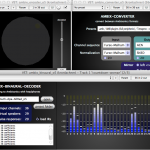 I am happy to finally release my cross-platform Ambisonic processors useable as VST/LV2 plug-ins or standalone application under Windows, Mac OSX and Linux. They can be used in flexible hosts like Reaper, Ardour MaxMSP or as standalone applications with Jack.
The plug-ins can be used to produce 3D Ambisonic content or do post production on recordings. (eg. Soundfield or Eigenmike microphone recordings)
The Ambisonic order is variable and can be choosen at compile time. A practical limitation for Reaper is 7th order due to the 64 channel limit. The processors use the ambiX convention (full 3D, ACN channel ordering, SN3D normalization)
UPDATE: Sorry I had to temporary remove the download to this software due to license issues. I hope to get it online again soon.
A short video clip showing the plug-ins in action: https://vimeo.com/81073470
A slightly outdated paper about the plug-ins can be found here: http://lac.linuxaudio.org/2013/papers/51.pdf