13 studies for piano and live electronic
in equally tempered Bohlen-Pierce tuning
The piece "Triskaideka" for piano tuned in the equal temperament Bohlen-Pierce scale and live electronics was developed during my Erasmus semester at Lithuanian Academy of Music and Theatre, Vilnius.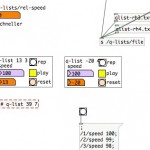 The piece is based on a very free application of twelve-tone techniques extended to thirteen tone rows.
Rhythm is mainly managed by vertical and horizontal stacking of Fibonacci ratios and the Golden mean.
Many thanks to my teacher Ricardas Kabelis for guiding me through this process!
Triskaideka is composed with extensive use of tools like Pure Data, LibreOffice-Calc, Sibelius and Reaper.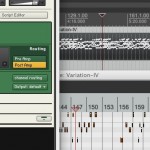 Simulation of the retuned piano made with Native Instruments Kontakt. -> See the guide for retuning NI Kontakt Pianos
full recording in one piece: