This article describes how to use non-standard tunings with the excellent Native Instruments Kontakt Pianos (Berlin, New York, Vienna,…). You won't find help about that in the manual but actually it's quite easy.
To use other tunings than the included ones you have to edit the script of the Details tab.

Go to the Script Editor and open the Details tab.
Click on Edit to edit the sourcecode.
If you want to retune every note of the piano differently you have to edit the Stretched Tuning "preset"
download here an example for equally tempered Bohlen-Pierce tuning.
Values are given in microcent -> 1 cent == 1000 microcent
For retuning the twelve notes of the scale equally over all octaves you can edit the — Declare (Micro)-Tunings — settings.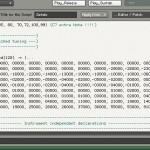 !! The text editor built into Kontakt 4 seems to be a little bit buggy.
It is best to select the whole script, past it into a text editor, make the changes there and copy-paste back into Kontakt.
!! After changing the script you have to press Apply Button. If it doesn't work you probably introduced some error in the script.
To be able to hear the changes you have to choose another tuning and then the tuning you want for resetting it!
Don't forget to make a backup of the script somewhere outside of Kontakt. Save the Kontakt preset.