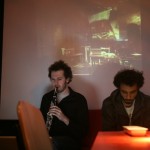 electronic music and network bridge concert
3mal3 – in the net
Wednesday, 23rd of May, 2012
live from Restoranas Jalta[1] – Vilnius – 22:00
Matthias Kronlachner – electronics, sample piano, clarinet
Can Kazaz – electronics, recorder, toys
live from Postgarage[2] Graz – 21:00
David Pirrò – electronics, keyboards
Peter Venus – electronics, french horn
Marian Weger – electronics, zither

Almost two trios in two locations playing one concert.
Acoustic instruments and sounding objects – electronic feedback and estrangement – algorithmic processes. These ingredients will dominate the concert evening held in two locations 1300 km from each other.
The net – the internet – is used as acoustical and visual bridge allowing the performers and the audience to travel in milliseconds between the two cities – Graz and Vilnius.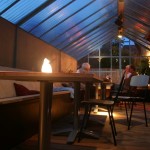 Vilnius
Begin: 22:00
Restoranas Jalta
Vykinto g. 17A
Graz
Begin: 21:00
Postgarage 2nd Floor
Dreihackengasse 42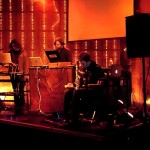 With friendly support of the
LMTA, Lithuanian Academy of Music and Theatre, Vilnius
IEM, Institute of Electronic Music and Acoustics Graz