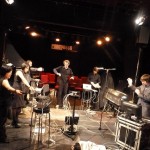 On Tuesday, March 20th, 2012 will be the next concert of ICE – IEM Computermusic Ensemble. This networkconcert will be held in two locations at the same time. Listen to it in Graz – Austria or Vilnius – Lithuania.
LMTA[1] central building – Room 306, Vilnius
IEM[2] Cube – Graz
Announcement in lithuanian language
Announcement in english language
concert starts at
20:00 Graz local time

21:00 Vilnius local time
"extended fields" – ICE (IEM Computermusic Ensemble)
Musicians:
– Jamilla Ballint
– Clara Hollomey
– Wen Liu
– Peter Venus
– Marian Weger
– Matthias Kronlachner (remote from Vilnius)
– Uluğ Can Kazaz (remote from Vilnius)
– guest: Daniel Hojka
Director: Winfried Ritsch


The IEM (Institute of Electronic Music and Acoustics, Graz) Computermusic Ensemble (ICE) is a group of electronic musicians, playing with computermusic instruments, which are interactive, augmented hyper-instruments or simulations of real instruments.
The target is contemporary music adapted or written for computermusic ensembles, but also interpretation of historical ensemble music with virtual instruments. They play with a spatial audio system, especially Ambisonics or Wave-Field systems, where they are rendered within small or large concert halls and also open environments.
After the first public concert "fields" at Porgy&Bess Vienna in 2011 "extended fields" will be played where pieces like "Vacation Teleport", "Sound Drifting", "All Under One Net" are interpreted and new pieces for ICE and solo virtual instruments are played.
homepage: http://iaem.at/projekte/ice/
Here you can find some pictures from the concert.
Program:
Vacation Teleport, ICE / Winfried Ritsch, 2007
This piece is a composition made of several hundred short excerpts of field recordings which are from different cultures of the globe. The listener makes an auditive journey through these cultures. These different scenes meet at the border of conciousness.
Binaural recordings with friendly permisson by Aaron Xinn.
1902, Matthias Kronlachner, 2012
Heinz Bohlen and John R. Pierce independently discovered a scale which devides the perfect octave+qunite into 13 steps. 1902 is based on a row in that alternative tuning. It is transposed in it's Tritave and layered in chords. The simple and sterile sounds as well as the stable pulse make it possible to focus on the sounding of the different steps of the scale and their harmonic structure.
X-Saws, ICE / Windfried Ritsch, 2011
Based around an ambisonic recording made on the coast of wales, musicians are controlling the pitch and spatialisation of sawtooth-waveforms, each following their own paths in space.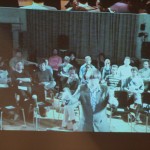 Rotary, Daniel Hojka, 2012
Considering the ICE, a hardware controller mainly based on spindles of old hard disks was developed. Its most exceptional property, the inertia of the endlessly spinning disks creates very distinctive control curves gives the instrument a characteristic behaviour and sound compared to conventional rotary encoders. The musicians of the ICE do not only accompany the core instrument solisticly generating these sounds, but contribute all the spatialization of the sounds in pairs and therefor become part of the main instrument.
AUON – All under one Net, ICE / Winfried Ritsch, 2011
In the composition "All Under One Net", the musicians play with 1st-order ambisonic-recordings into a central algorithmic compositional machine. In the machine, the material played by the musicians is altered rhythmically over time and will be fed back to the ambisonic Space setup around the audience.
Composed for ICE in 2011
Thanks to Ricardas Kabelis and Mantautas Krukauskas for their support in Vilnius!
[1]Lithuanian Academy of Music and Theatre, Gedimino pr. 42, LT-01110 Vilnius, Lithuania↩
[2]Institute of Electronic Music and Acoustics, Inffeldgasse 10/3, 8010 Graz, Austria↩