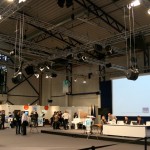 The Music Innovation Studies Centre Vilnius (MiSC) [1] in cooperation with the Institute of Electronic Music and Acoustics (IEM) Graz [2] received the award for the best art exhibit at the Information and Communication Technology fare from the European Commission in Vilnius.
The team from MiSC set up a sound sphere with 15 loudspeakers around and above the stage area.
Demonstrations about the Ambisonics spatialization technology and compositions by Gerriet K. Sharm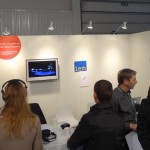 a [3] and Jurgis Jarašius on stage as well as the Eigenmike® beamforming in combination with the 360deg "extended view" [4] camera by Marian Weger and Peter Venus convinced the audience.
Links:
bernardinai.lt article
[1] http://misc.lmta.lt
[2] http://iem.kug.ac.at
[3] http://www.gksh.net
[4] http://extendedview.mur.at