Ressources:
Download the Pd-Patches developed during the lesson here.
Showcase/Application examples

Ambisonics Surround Technique – Cube Mixer[1], IEM Cube, Mumuth
Some thoughts…
"[…] that there is no correlation between creativity and ownershop of equipment. That as an artist gets more proficient the number of tools goes down. […] You can often tell an extremely powerful tool by its Spartan appearance. It does not nees to advertise itself.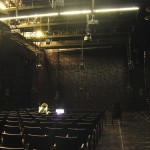 There are no flashing graphics or whizzbangs, just a command prompt or a blank canvas. What this is saying is "I am ready to do your bidding Master". Many get stuck here, because they never thought about what they want to do, expecting the tools to lead them rather than the other way about."[2]
More material
Pd Introduction from the Book "Designing Sound" by Andy Farnell [link to the book and to the Pd examples]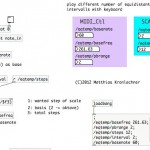 [1]IEM CUBEmixer http://ambisonics.iem.at/xchange/products/cubemixer↩
[2]Farnell A. – Designing Sound, 2010, MIT Press, Ch.8 page 137, Link to book info↩