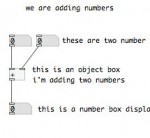 Ressources:
Download the Pd-Patches developed during the lesson here.
Download Software (Pd-Vanilla): http://crca.ucsd.edu/~msp/software.html
or Pd-extended: http://puredata.info
Tutorial 1: http://www.pd-tutorial.com (Johannes Kreidler, Composer)
Tutorial 2: http://en.flossmanuals.net/pure-data/
Click here for the official documentation from the "father" of Pure Data Miller Puckette and here for his Book The Theory and Technique of Electronic Music.
Pd Mailinglist
Many questions have probably already been asked @ Pd Mailinglist
Search in the archive!
Prerequisites for audio playback:
Windows: Using ASIO4ALL can reduce latency with built in soundcards
optional on Linux/Mac/Windows: Use Jack for flexible routing between applications.
note for OSX: check this site for installing the more comfortable GUI Qjackctl
Topics
why?, history, application examples, different versions, how to get help, interface, settings, edit mode, objects, messages, specific messages (bang, float, message)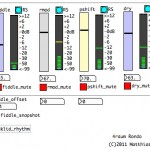 Showcase/Application examples
Rondo-eine schwingende Platte – Multimedia Installation – sound and graphic
offen::spenden – Hardware input – Coin counter
For the more advanced readers and interested:
Pure Dataflow – Diving into Pd