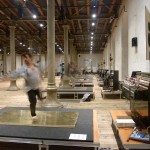 Friday, Nov. 18th and Saturday Nov. 19th will be the performance of Maschinenhalle #1 by Christine Gaigg, Bernhard Lang, Winfried Ritsch and Philipp Harnoncourt.
12 dancers playing 12 automatic pianos with their 12 sounding plates.
Homepage Wien Modern

Friday 18th and Saturday 19th, November 2011 at 21:30
Semper Depot, Lehargasse 8, 1060 Vienna
The performance is part of FEEDBACK / Tanzquartier Wien and WIEN MODERN, An adaption of the festival opening at steirischer herbst 2010
Concept Christine Gaigg, Philipp Harnoncourt, Bernhard Lang, Winfried Ritsch / Choreography Christine Gaigg / Composition Bernhard Lang / Technology & Development Winfried Ritsch, IEM Graz / Stage & Light Philipp Harnoncourt / With Quim Bigas Bassart, Sara Canini, Ella Clarke, Alexander Deutinger, Christine Gaigg, Radek Hewelt, Milla Koistinen, Anna Majder, Asher O'Gorman, Eva-Maria Schaller, Magi Serra Foraste, Veronika Zott Costume design Peter H. Schindler / Lighting Edith Offenhauser Engineers Peter Innerhofer, Matthias Kronlachner, Marian Weger Assistance Iris Raffetseder, Barbara Motschiunik Production Eva Trötzmüller / art:phalanx
The adaption is a coproduction of Tanzquartier Wien and 2nd Nature in collaboration with Wien Modern. Supported by Kawai/Klavierhaus Fiedler Graz. Commissioned by steirischer herbst. 2nd Nature is supported by the department for culture, city of Vienna.