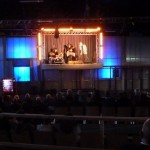 Sound design, live sound and video projection for the theater play "Zwischen Himmel und Erdnuss" by Andreas Kurz within the Festival der Regionen 2011[1] Attnang-Puchheim, June/July 2011.
Plot
Eigentlich wollte sich Franz nur ein paar Erdnüsse holen – und findet sich unversehens am Bahnsteig in absurde Situationen getrieben; inmitten zweier Musiker,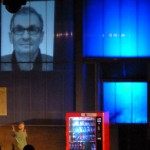 einem seltsamen Kind und einem Snackautomaten, der eigenmächtig zu handeln beginnt. In dieser befremdlichen Situation stellt er sich die Frage, ob es nicht besser wäre, sich neu zu erfinden, etwas Unbekanntes zu riskieren. Ob es sich nicht lohnen würde neue Wege zu gehen, einfach umzusteigen. Am Ende bereut man ja doch nur die Sünden, die man nicht begeht.
Autor Andreas Kurz
Bühnenbild Stefan Brandtmayr
Dramaturgie Barbara Falter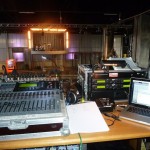 Kostüme Cornelia Kraske
Musik Rupert Schusterbauer
Regie Christian Rathner
Schauspieler Peter Favretti
Schauspieler Franz Froschauer
Schauspieler Stefan Lindenbauer
Schauspielerin Elisabeth Niederer
Sound Matthias Kronlachner