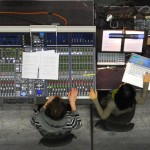 At the Impuls Academy 2011 for contemporary music[1]  held in February 2011 in Graz I was assisting Gerhard Eckel and Peter Plessas at the Live Electronics Workshop.
The workshop and the concert took place in the György-Ligeti-Saal in the heart of Mumuth with it's versatile loudspeaker system.

Every participant had to perform one piece with his instrument on stage and one piece from the mixing desk to do the live electronics.
I suppor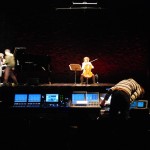 ted them at the mixing desk doing all the preparation and mostly dealing with live amplification and overall balance.
Some bugs or stange behaviours in Max/MSP patches had to be solved as well.
For every piece we adjusted the loudspeaker arrangement to fulfill the needs of every single composition.
Participants: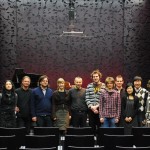 Karolina Öhman – cello + electronics
Marij Van Gorkom – bass clarinet + electronics
Mari Targo – violin + electronics
Tomoko Honda – piano + electronics
Concert program:
Aliona Yurtsevich: TREE / study – III (2007)
Hyunsuk Jun: Papilio Ulysses (2005)
Michele Del Prete: Cambiamenti Di Stato (2008)
Karlheinz Essl: Sequitur XIII (2009)
Germán Toro-Pérez: Rulfo/Ecos I (2006)