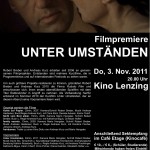 Thursday – Nov. 3rd, 2011 will be the premiere of the 30min shortmovie Unter Umständen by Andreas Kurz.
Location: Lichtspiele Lenzing
I have been responsible for everything concerning sound.
There will also be a screening of older shortmovies done by Rubatofilm where I was involved in filmmusic.

Plot/Synopsis
Peter ist Bankdirektor und nach 15 Jahren Ehe endlich bereit Vater zu werden. Doch gerade als Sylvia, seine Frau, schwanger ist, fällt die Welt in eine Krise, die mehr und mehr außer Kontrolle gerät. Die Angst vor den Auswirkungen der Rezession macht Peter unsicher.
Ein ständiges Gefühl der Bedrohung begleitet ihn ab nun. Mit aller Konzentration versucht Peter sein gewohntes Leben aufrecht zu erhalten, aber nach und nach geraten die Lebensbereiche ins Wanken.
Je mehr sich Peter gegen die äußere (und bald auch innere) Krise zu wappnen versucht, desto gewaltiger erscheint sie ihm. Als ihm zu Ohren kommt, dass immer mehr Mütter mit Schwangerschafts- und Geburtsproblemen zu kämpfen haben, kommt ihm der Gedanke, dass auch das Kind Teil der herannahenden Katastrophe sein könnte.