Travelling through Turkey from July, 31th – August, 22nd 2011.
Istanbul – Safranbolu – Amasra – Çakraz – Cide – Inebolu – Trabzon – Ayder – Kaçkar Mountains – Erzurum – Kayseri – Görme (Cappadocia) – Ölüdeniz – Marmaris – Bodrum – Kos (Greece)

3 Nights in Istanbul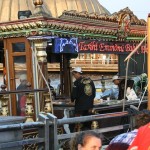 Hostel Galata West – good location, clean, breakfast on roof terrace, aircondition in dormitory
do:
* eat fishbread (Balik Ekmek) next to galata bridge (don't forget to add enough salt and lemon!)
* Bosporus tour by boat
* blue mosque
not too good:
* Prince's Islands (water is not very clean)
03-08-2011
bus from Istanbul Otogar (bus station) to Karabük
11:00 -> 17:00, 35 TL/pers
Company: Kastamonu Güven (very comfortable and with WLAN!)
You will definitly be caught by a "otogar guide" if you want or not. You are faster finding the right company with his help but he also expects money from you. (10 TL – we gave him 5 TL)
Karabük -> Safranbolu with Minibus – just wave hands on the road in front of the Otogar, 2 TL/pers, 10 mins
You arrive in the new part of Safranbolu which is not very beautiful but we got a nice Pansyon for 60 TL/2pers. In the old town its more expensive.
There is a minibus every 30 minutes from the new town to the old town. 3 km – you could also walk.
04-08-2011
There are 3 daily busses from Safranbolu to Amasra: 8:30, 10:30, 19:30 (approximately)
2h, 14 TL/pers
beautiful town, citadel, beach. not many foreign tourists in this region. heard about 50TL pension for 2 people but we decided to do camping in the near Çakraz. The beach there is also way better then in Amasra.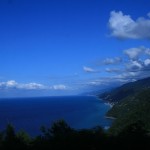 Amasra -> Çakraz Minibus near Postoffice, 15km, 4 TL/pers, 25 min.
road through the hills next to the black sea is quite heavy so busses are slow!
camping in front of the beach 20 TL/2 pers, not very clean toilet/shower but ok for one night. very nice beach!
05-08-2011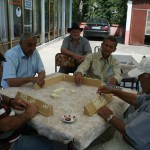 it is hard to get a Minibus from Çakraz to Cide because there are very few and you have to find out when they pass the town.
we trusted some guys at the café next to the road but it was not very clear when or if a bus is coming – in the end we missed one because we were busy learning Okey and had to wait 3 hours with very nice turkish retirees.
Çakraz – Cide, 15:00, 1.5h, about 4 TL/pers
in Cide there was no bus to Inebolu on the same day so we had to find a place to sleep,
we took a hotel for 50 TL/2 pers in the center but it is maybe better to find a place near the beach (appr. 15 mins walk)
because of Ramazan it's not easy to find good food at daytime in this region, there were not many tourists at all – this region is more famous for turkish people and in Ramazan most of them stay at home
in the night the town wakes up!
06-08-2011
bus from Cide -> Inebolu, 13:45, about 2h, 15TL/pers
in Inebolu no bus further the black sea cost – wait till next day, the owner of a pension went by and a woman passing by helped us to bargain 🙂
we paid 25TL/2 pers – the cheapest room on our whole journey – Pansyon Deniz – seaview
on this day we couldn't get any fish in the whole town but found a very good restaurant next to the beach – can't remeber the name sorry but it was 100m after the bridge in the west
07-08-2011
we decided to end our from town-to-town on the black sea cost adventure and take a bus to a bigger city where you can easily go to Trabzon
Inebolu -> Kastamonu, 9:00, 2h, 10TL/pers
Kastamonu -> Trabzon, 12:00, 11h, 55TL/pers
we arrived at the otogar, a minibus from buscompany Metro took us to the citycenter of Trabzon
very modern city, went to "Otel Anıl" because it was late in the night and we didn't want to spend much time to find a place to sleep, 70TL/2 pers, very nice hotel, good breakfast and english speaking staff
08-08-2011
the tourist information in Trabzon is very helpful, good speaking english staff
at 10:00 we took a tour bus to Sümela monastery, 25TL/pers, 1h from Trabzon, many companies offer this tour for the same price – it is possible to go there by public transport but rather complicated and maybe not much cheaper
you should take warm cloth – in Trabzon it was hot but the weather was not good when we arrived and it was quiet freezing, very nice frescos in the monastery
bus Trabzon -> Pazar, 17:00, 10TL/pers
our busdriver asked some locals for a bus from Pazar to Ayder but there was no more bus on the same day so we went out at the intersection where the street to Ayder starts,
we had luck to meet a turkish couple that took us all the way to Ayder – thanks!!
room in Ayder: Pansyon Doga Harikasi (!), 50TL/2 pers, nice wooden rooms, very good breakfast, one guy from the Pansyon phoned the driver of the minibus to Tavron where we wanted to go on the next day
09-08-2011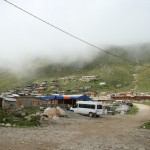 minibus to Yukari Kavron @ 9:00, but arrived at 10:00, 1h, 10TL/pers, very heavy road!!
you can get much information there from the guides or book a guide – we decided to go on our own
the weather wasn't very good – everything was covered in fog
we wanted to go to the lakes but somehow lost the way – after 3,5 hours we finally reached the lakes (normally it should take 2 hours), at the lakes the weather was way better and we decided to spend the night there
the night was very cold because our one layer 20 € tent and our slim sleepingbags are not made for camping in 2200 m altitude – so make sure to bring a good tent and a good sleepingbag for the mountains!!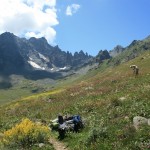 10-08-2011
after a good-morning-bath in the lake, which wasn't as cold as we expected, we took the way to Olgunlar, you have to cross the mountains about 3000m altitude and it took us 6 hours to Olgunlar, very nice walk but no shadow the whole trek – so bring suncream, a hat and be prepared to get burned
in Olgunlar, a very nice old village we stayed the night in Panyon Olgunlar, 40TL/2 pers (no breakfast), they also run a shop where you can buy food for your journey and a cafe where they serve fresh fish – very delicious!!
you can also stay in the tent next to the pension – it is 5TL/pers
11-08-2011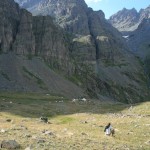 we left some of our things in the pension and went to the basecamp for climbing the Kaçkar, 3 hours, easy way, in the camp there are severall tents for tour groups – you can also rent a tent if you book in advance,
the clouds were not looking very nice in the late afternoon so we asked for a plastic sheet to protect our cheap tent againts rain – in the last minute before heavy rain startet i finished fixing the additional layer on our tent,
very heavy rain, lightening and thunderstorm above our tents in the night – quite frightening!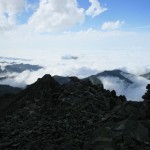 12-08-2011
we wanted to start early climbing the summit but it was raining at 4:00, at 5:00 and at 6:00…. we finally started at 9 o'clock – normally way to late for climbing up to the summit, but we wanted to reach at least the lake (Ölaspas jfndijdsdi)
after 2 hours we arrived at the lake and decided to move on, there were still clouds on the sky but we decided to try to get to the summit – a little bit worried about the weather and the daytime…
4 hours after the lake we arrived at the summit, it was quite hard to follow the path to summit – it is a big field of stones and there are not so much cans where you can orientate yourself, but you see the summit all the time so there may be many ways to reach the destination!
on the way back from the summit we realized that we were not really following the marked trek to the summit, it took us 2 hours back to the lake, after a break swimming in the freezing water we saw some clouds coming and decided to go back to the camp as fast as possible
we arrived in the camp at 18:30 and had nice chamomile tea which we found in the mountains
in the night there was a heavy thunderstorm again even with icecubes!
I wounder how the tent survived this, but we stayed almost dry.
13-08-2011
After the rain stopped at about 10:00 we packed our things and went back to Olgunlar. We tried to hitchhike to Yusufeli which is 23 kilometers from Olgunlar but just managed to go to Yalalar – 5km from Olgunlar.
Next bus in the morning at 6:00 so we had to stay in the Pansyon 60TL/2 pers, without breakfast, warm shover great after two nights in to small wet tent
14-08-2011
6:00 minibus Yalalar → Yusufeli, 2h, 20TL/pers
9:00 bus Yusufeli → Erzrum, 20TL/pers
from Erzrum we wanted to take a train to Kayseri but there is just one train in the morning at 5:30 and it takes you 14 hours
bus Erzrum → Kayseri, 14:00, 10h, 45TL/pers.
Bus Kayseri → Nevsehir (!!!), 0:30, 1h, 10TL/pers.
Nevshire (!!) Hotel Seven, 60TL/2 pers, best hotel we stayed on our whole journey, very good breakfast
15-08-2011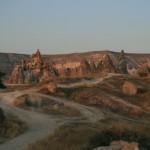 minibus Nevsehir → Kaymakl, 3TL/pers, 20km
underground cities of Kaymali, fee: 15TL/pers, very cool to walk in the caves, not many people when we were there – must be horrible if a lot of tourists are inside at the same time
minibus Nevsehir → Göreme, 2TL/pers
Camping Nirvana, 20TL/1 tent/2 pers, almost directly in center, swimmingpool, shower and toilet ok, sandy place but for one night ok
Kaya camping should be very good but 30TL/2pers and 2,5 km from the center of Göreme