4 rooms – 4 musicians – 1 concert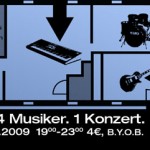 a user experience experiment
drums, bass, guitar and keys have their own room – connected with headphones they perform as one band – visitors can decide about which musician to focus on or listen to the surround mix provided in a 5th room
Andi Haidecker – guitars
David Six – keys
Manuel Podhostnik – drums
Matthias Kronlachner – bass, clarinet, electronics, concept, technology
Idea by Maximilian Kiener – thanks!!!
no visual contact – it's what you hear…
an experiment as musician and technician.
in some tunes the computer takes the part of the conductor
random processes advice the musicians.
pd, osc, wlan, a digital mixing desk, headphones
and lots of cables made it possible to give the people
different spots to listen to the music.
want to watch and listen to bass? drums? guitar?
keys? all separate? all together?