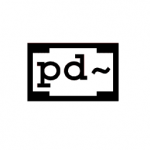 A Pure Data workshop series will be held on Wednesdays starting from September, 26th 2012 at 18:00-19:30.
Location: Lithuanian Academy of Music and Theatre (LMTA), LMTA main building, Gedimino pr. 42, LT-01110 Vilnius, room 306
The course is open for everyone interested and will start from zero. It will cover topics relevant for sound artists, visual artists, composers, engineers, …
Please register per email:  mail (at) matthiaskronlachner.com .
What is Pure Data (Pd)?
Pure Data is a very flexible visual programming environment, developed by Miller Puckette for creating electronic music. It is available for free and many people contribute in extending it's functionality. Today it is widely used for creating sound, visuals, data, multimedia installations, music composition, signal processing and analysis, … It can be seen as Open-Source alternative to MAX/MSP.
Due to its visual programming nature its usage is very intuitive.

How to get there?
Enter the building through the front entrance, go to the right through the corridor and take the steps into the 3rd floor.
Pass the glass door in front of you, room 306 will be on the right hand side.
What do you have to bring?
Pure Data is available for all major operating systems including Windows, Linux and Mac OS. Please bring your own Notebook (whatever brand – does not matter!) to the workshop. There are no computers available at the location.
DATES/TOPICS
all lessons will be held in english language!

2012-09-26 [ Material ] [ Pd-Patches ]
possible applications for Pure Data – showcase, software sources, finding help, history and different distributions of Pure Data, messages, objects, basic operations, counter, hot/cold inlets, creation arguments, execution order
2012-10-03 [ Material ] [ Pd-Patches ]
measure time, timing of messages, send-receive, first audio tests, lists
2012-10-10 and 2012-10-17 – sorry, no course!
2012-10-24 [ Material ] [ Pd-Patches ]
a little bit more complicated audio example: simulating a string instrument and playing with it
2012-10-31 [ Material ] [ Pd-Patches ]
repetition of Pd basics, subpatches, abstractions
2012-11-7 [ Pd-Patch ]
repetition subpatches and abstractions, sequencer example

2012-11-14 [ Pd-Patch ]
Gem – basicsof visualization within Pd
2012-11-21[ Pd-Patches ]
sampling – recording/playing audio
2012-11-28 [ Pd-Patch ]
interfacing with midi controllers/sampling
2012-12-05 [ Pd-Patches ]
some more midi interfacing, feedback instrument
2012-12-12 – sorry no course – next course in January!

Download Software (Pd-Vanilla): http://crca.ucsd.edu/~msp/software.html
or Pd-Extended: http://puredata.info
Pd Introduction from the Book "Designing Sound" by Andy Farnell [link to the book and to the Pd examples]
Tutorial 1: http://www.pd-tutorial.com (Johannes Kreidler, Composer)
Tutorial 2: http://en.flossmanuals.net/pure-data/
Click here for the official documentation from the "father" of Pure Data Miller Puckette and here for his Book The Theory and Technique of Electronic Music.
Pd Mailinglist
Many questions have probably already been asked @ Pd Mailinglist
Search in the archive!